The current frustrations being experienced by some cloud users in South Africa have sparked the necessity for this blog. Ironically, the benefit of the cloud is also its weakness.
When a cloud or SaaS (Software as a Service) provider has an outage, it's catastrophic because it can impact thousands of users in one foul swoop.
So, if you're thinking of moving from traditional accounting software to a cloud SaaS product, there are three primary points to think about when deciding whether to use cloud accounting software or host your current desktop software in a hybrid cloud environment:
1. Features and functionality of cloud hosting
Most desktop accounting software has been evolving for about 30 years. During this time the software has developed to include a vast array of features, so it'll take years for cloud applications to catch up with the desktop functionality.
But…. what we should be asking ourselves is: do we need all those extra features? Should the vendors of today's cloud accounting software even include them all?
Through experience, I've learned that most SMEs don't actually need all the desktop accounting features included in traditional software.
If we're aiming for the 80/20 rule, why complicate software for the sake of the few businesses that use the extra features?
Too many features can overwhelm users at first, but in time they get used to them and carry on regardless. Take Microsoft Excel as an example: 99% of us only use 5% of its power, but we've become used to it and thus think we can't do without it.
Businesses that don't need the extra functionality can move to the cloud already. However, for those that do need the extra functionality of desktop software, it'll be quite a while before they'll be able to move to the cloud.
2. People don't like to change their business solutions
When all your employees already know, understand and are comfortable with your current desktop software, why change it? If you're planning to move elements of your business to the cloud, it should be a business decision and not one driven by the latest IT trends – unless the value exceeds the risk. The risks of the cloud are only evident when (a) you experience sticker shock (more relevant to Azure/AWS type cloud) and (b) there is an outage.
What you need to ask yourself is: are you sure that (a) your data is recoverable in the event of disaster, (b) the costs that attracted you in the first place will remain transparent, and (c) you have an exit plan?
Migrating to the cloud has many benefits, but it also has major drawbacks. For example, once you've migrated to a public or walled-garden cloud provider, how do you back out if it isn't working as planned?
Also, why fix something if it isn't broken? One shouldn't underestimate the cost of changing primary operational software in terms of training, teething problems and wanting to protect the investment of current software.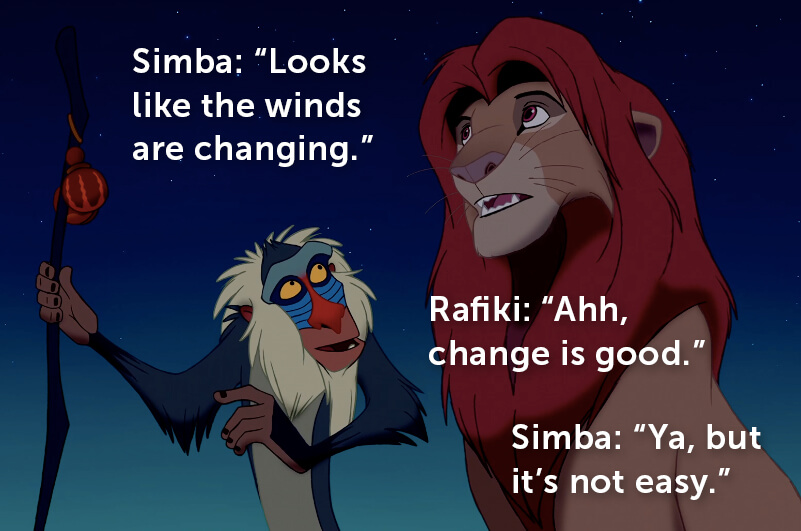 Although I hear what Rafiki is saying, change isn't always necessary!
Moving to cloud accounting software is the obvious choice for most new businesses. But if you're an established business that can rely on your current desktop software, change may not be necessary or desired.
At the end of the day, it's a personal choice.
3. Convenience of the cloud
Cloud software is on the whole very convenient in that you can work from anywhere whenever you wish to – all you need is a browser – and all your operational headaches are handled by your cloud provider. Cloud providers also provide a rich ecosystem of integrations, such as anti-virus and anti-malware, making the package all the more attractive.
Did you know that hosting your desktop software on a virtual server gives you the same convenience without the need to re-learn or re-train anyone? This is called a hybrid cloud. With a hybrid cloud, you get the benefits of a distributed IT environment in a cloud environment that's all yours.
In addition, because your hybrid cloud virtual server exists in your own protected environment, you can store your documents there and even load all your other applications onto the same server, thereby taking your whole business "into the cloud". 
With a hybrid cloud, it's simply your familiar environment in the cloud.  
IronTree's hybrid cloud differentiates itself from public cloud (walled-garden providers), in the following key ways: 
It backs up your data every day (or according to a schedule you choose)
It protects your environment from malware/ransomware by continually monitoring your environment
There are no lock-ins or walled gardens

 
Some additional benefits of a hybrid cloud:
Eliminates the need for a physical server 

 
Software is installed, maintained and configured once, on the cloud server
Ensures physical security of your servers
Offers better opportunity for managing cyber security
Truly enables business continuity
Makes it easier to perform disaster recovery
Enables true remote work, ie access from multiple locations
Data 

synchronisation

 requirements fall away in multiple location environments  

 
With multi locations, data from different geographies had to be synched to a "combined database".

 

Now

,

 the "combined database" is just a single database hosted in the cloud with all the different locations logging into 

it

. This

 

avoid

s

 the need 

for 

different databases 

to have to 

synch

 in order

 to 

"

stay in tune" with one another.

 
Read more here (12 reasons for hosting SAGE in the cloud)
So, technically speaking, how is the hybrid cloud different?
Desktop software is installed on your hard drive (or in your private virtual hosted environment) whereas cloud accounting software stores your data in what's known as a multi-tenanted database. 
So, if there are 50,000 businesses using a certain brand of cloud accounting software, then all 50,000 businesses will have their data stored in the same database – each with its own unique identifier so that you know which data belongs to which business.
It's like Facebook – all of us have our pictures and data stored in one huge database identifiable by unique keys assigned to each user. Cloud accounting works the same way.
But this is the reason that when a cloud accounting vendor goes down, everyone goes down.
Let's summarise the cloud debate
The electric vehicle is the future. Tesla is the most valuable brand in the world. If you had to land on earth from a distant planet, not knowing our customs and history, and were tasked with buying your first vehicle ever, cost being irrelevant, you'd purchase an electric vehicle because it best fulfils the needs of today.
However, if you're from earth, you might still be prone to sticking it out with standard run-of-the-mill, fuel and diesel options that you know well. You realise that EV (electric vehicle) is the future, but it's not your future, yet. Your needs, your environment and existing knowledge is not ready for this switch.
The same can be applied to accounting software: cloud (EV) vs desktop software (gas guzzler). The question is, have you considered a HYBRID, where you experience the best of both worlds?
Hosting your desktop application in the cloud gives you all the benefits of the cloud, without sacrificing any of the perks of the application.
Chat to us about what a hybrid cloud would do for your business. 
(photo credit: google images from The Lion King)
Learn about IronTree's specialised virtual private server (VPS) hosting.