A virtual private server (VPS) is a server hosted in the cloud in a virtualised environment, and accessible with Internet connectivity or a dedicated private network.
Crikey! What on earth does that mean?
If you want the Wikipedia definition, here it is: Virtual Private Server definition.
Maybe think of it like this:
You need to run software on computers to manage your business operations and store data.
In the past, you would purchase a physical server that would be delivered to your office a few days or weeks later. Your technicians would then power up the machine, install an operating system (the software which runs the computer), install the required application software, manage the server on an ongoing basis, replace parts, increase the RAM, fix blown power supplies due to power surges… I could go on.
You would probably have purchased the largest, most expensive machine you could afford as, firstly, you wouldn't know your actual usage and requirements and, secondly, wouldn't want to under-specify the server and suffer the consequences.
With a virtual private server, it's very different: without purchasing any hardware you get to use and pay for the space and memory you need, increasing or decreasing each as your needs change.
So, if you're running Sage 200 Evolution and need a 16CPU, 64GB server with 1TB of hard-drive… it's yours, ready to go. IronTree installs the operating system and moves you from your physical server to a virtual private server.
If we notice that you need more RAM and hard drive, we add it from our stack.
IronTree itself uses a VMWARE stack of hardware which is a host machine that enables a VPS to run within a hypervisor and which, in turn, is a massive combination of CPU (computer power), RAM (memory to run applications in) and disk space (to store information on), as well as firmware and software. In seconds, IronTree can create a VPS for any organisation by combining a number of CPUs, RAM and available hard-drive.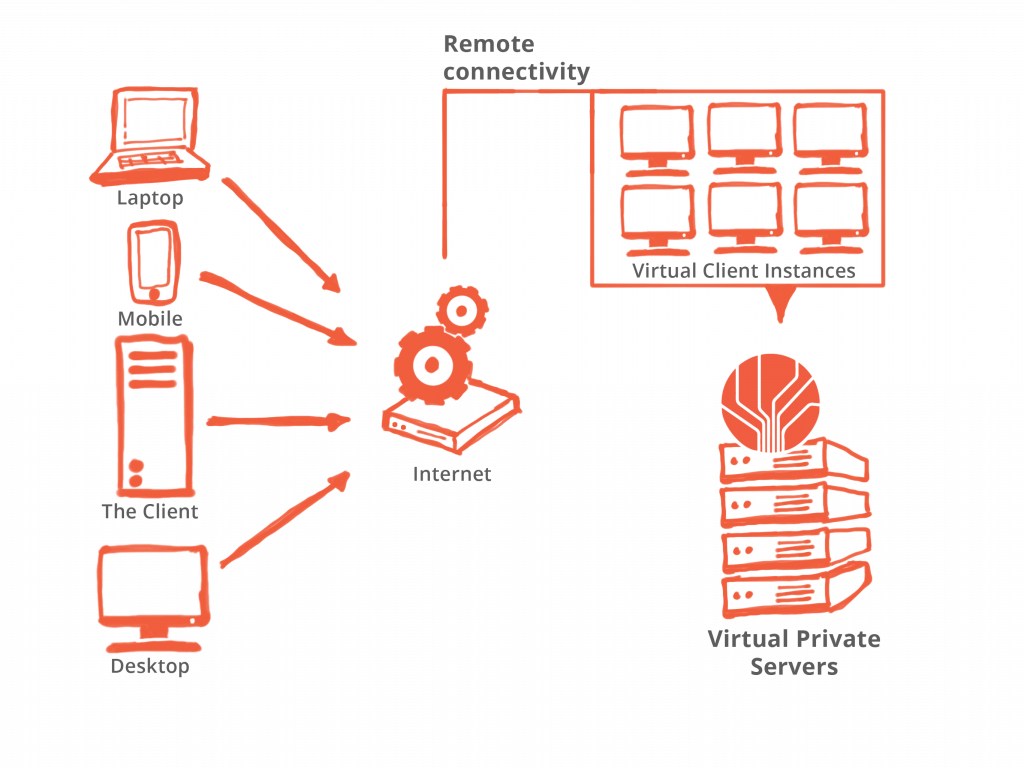 Six main benefits of a virtual private server (VPS) are:
Easy configuration and management in terms of hardware resources.
Simple and fast recovery from a disaster (if you have the correct disaster recovery support).
Elimination of power issues, hardware failure and the possibility of theft since your server is hosted off your premises.
Easy access to your servers from multiple locations.
Reliable, redundant hardware with dual power supply, fire-proofing, air-cooling, backup generators and Internet connectivity.
A VPS is hosted in a secure environment that has multiple layers of protection against malware attacks – it's much more secure than a local server housed in a cabinet in your office.
Using a VPS for Sage 200 Evolution would be much like running the application on your desktop. You'd click an icon that opens a remote desktop connection, log into the application and perform your business functions.
Because the connectivity software is optimised, your user experience would be fast and efficient, as long as your organisation has good Internet bandwidth.
I hope this explains what a VPS is and why it's worth considering for hosting your organisation's critical applications.
Interested in learning how to setup cloud hosting for your business?