Backing up has become essential, fullstop.
So much of a business's vital data is on computer these days, from debtors and creditors to details of who to invoice and the status of stock, plus compliance records and financial statements – virtually everything is on computer.
This vital data is what keeps a business going, so losing any or all of it isn't an option if the business it to continue.
The 2019 MyBroadband cloud survey completed by 386 IT decision-makers in small, medium, and large businesses across South Africa revealed that more than 70% of businesses backup their data to the cloud.
We published several blogs on cloud backup during the course of 2019, giving tips and info to guide you on the subject. If you missed them, here are the top reads again:
Top cloud backup posts of 2019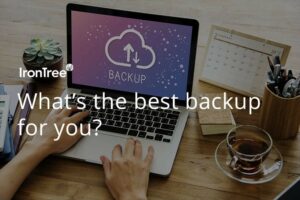 Learn the advantages and considerations of moving your business systems to the cloud. IronTree is a reputable online business continuity service provider.
Read More »