When we talk about IT disaster recovery we're not talking about surviving floods and fires and earthquakes.
Natural disasters account for a small percentage of all data loss incidents and cyber attacks. Ransomware and other malware accounts for a whole lot more. But the biggest cause of data loss and breach turns out to be employee error and negligence. Many businesses don't recover after the disruption of a data breach or cyber attack.
IronTree tries to raise awareness about disaster recovery amongst its readership – partners, clients and prospects – by putting out informative blogs on how DRaaS can save a business and keep it running while the disaster itself is sorted out.
We published 10 blogs on disaster recovery during the course of 2019, giving tips and guidance on a range of topics. If you missed any of them, here are the top reads again:
Top cloud backup posts of 2019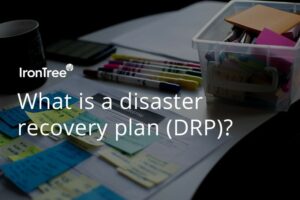 Learn five important things to do when creating a DRP (disaster recovery plan) for your business. IronTree provides DRaaS and advanced data management.
Read More »
According to Forbes business magazine, cyber criminals target small businesses because they're the least likely to have a comprehensive security strategy in place.
The good news is: 90% of the businesses that have an active disaster recovery plan in place do manage to recover from a cyber attack.
Get Disaster Recovery

IronTree will help you protect your business with its DRaaS solution