According to Juniper Research – one of the world's leading analyst firms in the online, mobile and digital market – global cybercrime has accounted for a staggering $2 trillion in 2019.
What's worse is that American business magazine Forbes predicts this number will increase to $6 trillion by 2021!
We're talking absolutely massive amounts of cash being taken here, through ransomware and all the many other kinds of cyber attacks we've become vulnerable to as users of the Internet.
Closer to home, the stats are no more comforting. Though these stats are slightly older, The South African Banking Risk Information Centre (SABRIC) reported that between 2017 and 2018 mobile banking incidents increased by more than 100%, with gross losses of R23 593 631, while online banking incidents increased increased by 44% with gross losses of R89 368 722. I'm pretty sure that by the time the stats arrive for the period 2018 to 2019, they'll have risen further.
There's just no getting away from the Internet of Things or the fact that it's playing a huge role in our lives and the future of business. The only way for us to thrive and survive by it, is to spend time, money and effort on protecting our data, our interactions and our businesses.
IronTree tries to raise awareness amongst its readership – partners, clients and prospects – by putting out informative blogs on all the aspects of data protection that it supports. We published 10 blogs on cyber security during the course of 2019, giving tips and guidance on a range of topics. If you missed any of them, here are the top reads again: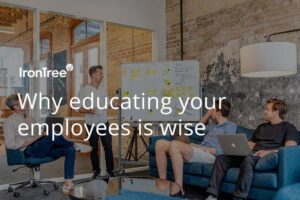 Data is one of the most important assets a modern business has. Employees are the ones who manage that data. So it makes sense for those employees to be well versed in looking after it, for the benefit of the business.
Read More »
Staff training is one of the first and most important steps you can take to become cyber safe. IronTree's cyber security course will assist your company to up its game on the cyber security front. And it's FREE – sign up below for 10 lessons by email.
Cyber Security 101

Sign up for our free 10-lesson training course